Operating the best Cannabis retail store (Dispensary) in San Francisco is a venture not many can lay claim to. Mainly due to the legal standing of the plant in the United States. But we are some of the very lucky (or hard headed) people who have gotten the opportunity to help develop this industry from the start.
What makes us even luckier, are the amazing brands and Cannabis infused products we get work with while selling you Cannabis! Without the hard work of these people to get products up to state standards, and work their passion to get their products on shelves, we wouldn't have such an amazing menu to offer you.
Today we are highlighting one of our favorite people, Felicity Chen, CEO and Co-Founder of Potli!  Maker of the best Cannabis infused cooking products you need for your kitchen!
Potli strives to bring a top quality, delicious, and easy to integrate cannabis infused cooking products to your kitchen to help you embrace plant-based wellness and self care every single day. Their clients are adventurous but laid back, ambitious but balanced, self aware but curious, firm in their core values but open minded.
Potli wants to empower people to experience and enjoy life their way, all while positively impacting the perceptions and dialogues around cannabis.

CSCC: What products do you make?
Felicity: "Ingredients! Delicious Pantry items."
The Potli CBD Chili Oil: 
It's flavorful but not too spicy, a perfect cooking or finishing oil that brings a full bodied, fragrant, slightly nutty twist to your cooking. Perfect in salads, hummus, and noodle soups, stir fry, or as a flavorful ingredient in any of your culinary creations to add a little spice while keeping it nice!
CSCC: What makes your products stand out?
Our best-selling flagship product and our firstborn, Potli Honey is made with raw, wildflower honey harvested from our co-founder's family backyard in the San Francisco Bay Area. The original hives were planted by her father to harvest hyper local honey to help treat her mother's asthma and allergies. We were inspired by the ayurvedic properties and tradition of raw honey as a powerful vessel for herbal remedies to infuse it with cannabinoids to create a true superfood.
Each batch is unique to the season and wildlife around, but every batch is hand harvested with love in San Francisco. A broad wellness powerhouse, honey is known for its antibacterial, antifungal, antioxidant, and soothing properties. Potli's Hemp Honey may be used whenever tranquility of the body and mind is required.
Customers love our honey as an integral part of their wellness and micro-dosing routines. The perfect calming addition to your bedtime tea, or a healthier sweetener that takes the edge off caffeine jitters in the morning. Potli CBD Honey is our crowd-pleasing favorite.
Potli uses quality ingredients from northern california with natural and holistic practices with every touch. 
Our natural, healthy, simple ingredients are differentiated by an obsession with quality and craftsmanship. Our supply of raw, wildflower honey is harvested our very own hives in the East Bay Area. Each delicious serving of honey is thoughtfully balanced with industrial hemp. Every jar is one of less than 1000 in its unique batch, and contains all the benefits of soothing, healing, ayurvedic properties of natural honey.
CBD (cannabidiol) is a non-psychoactive component of the cannabis plant. Industrial hemp contains less than .3% THC. Lab tested for your safety. Read more about our ingredients.
CSCC: When did the company start?
Felicity: 2017!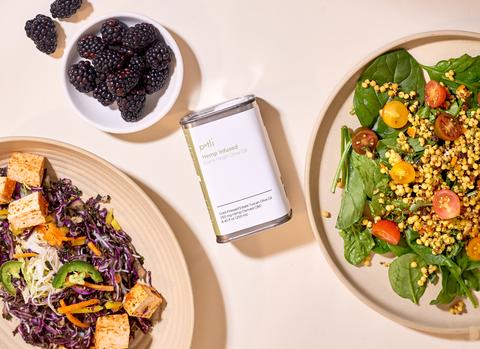 CSCC: What led you to working in the Cannabis industry? What made you want to work for the current company you are with?
Felicity: I loved food, and it's fueled and made tastier when consumed with cannabis. It's my life passion and that's why I started the business.
CSCC: Please explain some of the positives of working in the Cannabis industry!
Felicity: The incredible community we are surrounded by!
CSCC: Where do you see the Cannabis industry going in the next 5-10 years?
Felicity: National legalization!

CSCC: How have you personally benefited from Cannabis?
Felicity: My headspace, my freedom, my own personal journey out of depression.
CSCC: If you were talking to a young person interested in working in the Cannabis industry, what advice would you have for them?
Felicity: It's definitely a grueling industry. Not a lot of pay and sincere hard work. But if you love the plant, the industry provides the most diverse community and accepts with open arms.
CSCC: Tell us your top 3 favorite movies, or brands, of all time!
Thanks for reading! If you are interested in trying some of Potli's amazing Cannabis infused cooking essentials, shop now!